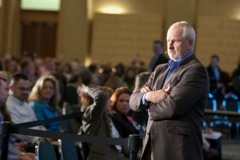 Jim Purcell ADR provides a variety of services tailored to resolve your specific dispute.
Facilitation. When a dispute or impasse arises during negotiation of a contract, or a renewal/extension of a contract, facilitation is often the best approach to achieve satisfactory, quick, and confidential closure. This is particularly true where, as is often the case in healthcare,  it is critically important to both parties to establish or continue their relationship.  Facilitation is a very underused means of reaching closure.  It requires that the parties, having realized that they are at impasse, select a facilitator with subject matter expertise, to bring the parties to agreement.  As such, it requires the same skills as mediation, but used in a different context.
Mediation. When disputes arise over an existing contract or relationship, mediation is often the best first step before proceeding to litigation.  We can help parties mediate disputes, in many cases avoiding the need for costly litigation.  Confidential mediation also avoids a host of other unpleasantries.  And even if litigation has commenced, mediation early on in the litigation process often produces valuable results for clients.  This is traditional mediation.  While subject matter expertise is important, an effective mediator needs the personality and skill set to guide parties to resolution.  This requires patience, listening skills, empathy, credibility, and a sense of timing.  We have been very effective in resolving seemingly unresolvable disputes.  This requires hard work and persistence.
Arbitration. When the parties conclude that settlement cannot be achieved even by mediation,  arbitration provides a common sense alternative to court litigation and results in binding awards. While similar to a court trial, arbitration is usually significantly speedier, less expensive, and confidential (or if handled correctly, it should be). Lawyers have a hand in choosing the arbitrator, unlike court litigation where any judge might be assigned to the case regardless of familiarity with the industry subject matter at hand. Particularly in healthcare disputes, confidentiality, subject matter expertise, and assured neutrality are extraordinarily important in arbitration.
Jim Purcell is a certified member of the American Arbitration Association National Commercial and Healthcare Panels; the American Health Lawyers' Association Dispute Resolver Roster; the RI Mediators Association; and Massachusetts Dispute Resolution Services.
Jim's particular subject matter expertise is healthcare, and more specifically, disputes involving payors, providers, ACOs, and integrated healthcare delivery systems.  Jim also has extensive experience in complex business contract disputes and with business torts (unfair business practices, MGL ch. 93A, antitrust, fraud, etc.).
Jim Purcell decided that he could best perform these services as an independent practitioner solely dedicated to resolving disputes outside of a law firm context.  He no longer represents clients as counsel, and is solely dedicated to achieve resolution, finality, and closure for parties in dispute.